U-CD Conzett's Happy Little Brandy CD, CGC
The Start of Western Hills Aussies
Dec 1985 to Feb 2000
Western Hills Aussies started in 1986 with our first Aussie, Brandy. Brandy is no longer with us today, but because of Brandy's intelligence, loyalty, and playfulness, we decided to become very active with the breed.

An Aussie can do it all, that is one reason we love the breed so much. Their versatility, along with their intelligence, makes them an all-around great dog.


We only breed our dogs one to two times a year. When we do breed, we try to improve the breed and we are VERY health and temperament conscience. We try to breed for soundness in genetics and temperament. Our 2nd Aussie, BoBo has a multiple number of genetic problems due to poor breeding. We promised ourselves as we held BoBo through multiple seizures that any health problem was a major concern.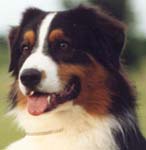 Touches Ebony Mountain Man - "BoBo"
Nov 1988 to Nov 2000
We have our personal limit to how many dogs we can have at a time. Our dogs are not kenneled and live in the house with us. We have a few acres of fenced property for our dogs to run and play in. We believe it is important to spend time with each of our dogs daily.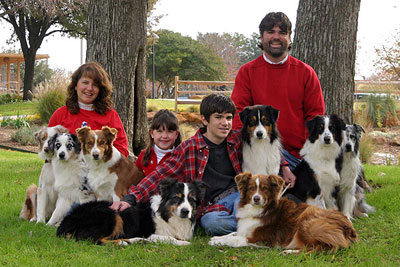 Dec 2005
People: Heidi, Mackenzie (6), Wesley (12) and Scott
Aussies: Zane (7 m), Skye (10 m), Red (8 y), Austin (5 y), Mattie (3 y), Dillon (11 y) and the front row Jake (14 3/4 y) and Gracie (9 y)
We has been involved in Aussie rescue for over 10 years. Currently we are taking time off from fostering, but still involved as we can be. We are members of the local Aussie club, and Heidi is a former president of the club (HOTASC). Heidi is also active as an ASCA senior breeder judge, webmaster for the ASCA website, an event photographer (2MC Design), a registered vet tech, and her most important job, a stay at home mom. Also loved by the dogs is Scott, Wesley and Mackenzie.
We try to educate people as much as possible about current Aussie problems, especially people who are inquiring about purchasing an Aussie. Please, if you have any questions about our dogs or Aussies in general, E-mail us.
Our Aussies are our pets, our best friends first, before our show dogs. We are very proud of our Aussies and feel if you go Aussie, you will never go back.