"Spider" Co-owned with Pam Riney
ATCH A-CH Western Hills Itsy Bitsy Spider, STDs, GS-E-OP, EAC, EGC,EJC,TN-O,OA,NAJ,SSA,SR, ASA, AG, AS, AR, AAD, JHD,CGC - Retired


"Bandit" Co-owned with Pam Riney
ADCH ATCHIII ASCA/UKC CH Western Hills Most Wanted Los Suenos,"Bandit" STDd OTDs MX MXJ
XF DNA-VP
Premier Special ASCA Nationals 2010 Pre-show, SBJ Melinda Gann
ASCA Agility Merit List 2009-2010 Jumpers Novice #1, Regular Novice #2, Gamblers Novice #4
Bandit is OFA Excellent, Elbows normal, eyes cleared yearly and HSF4 Clear. Bandit is Sugar's littermate. To see his pedigree, visit her page.
"Tyra" Co-owned with Sheri Bacon
ASCA/UKC Ch Westernhills Covrgirl LoSuenos GS-E JS-E RS-E
"Bink" Co-owned with Cheryl Earnshaw and Stephine Wertz
ASCA/UKC Ch Western Hills Source of Magic

Visit Bink's page to get information about this silly girl.
"Rocker" Co-owned with Pam Smith
Ch Western Hills Sure Thing GS-O JS-O RS-O NAP OJP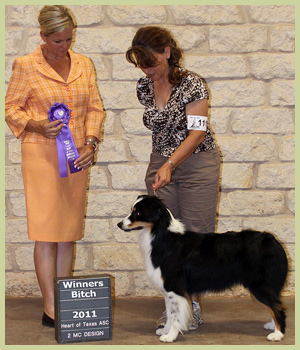 "Libby" Co-owned with Laura Bates
Western Hills AnthemsDeclaration
Major Pointed ASCA